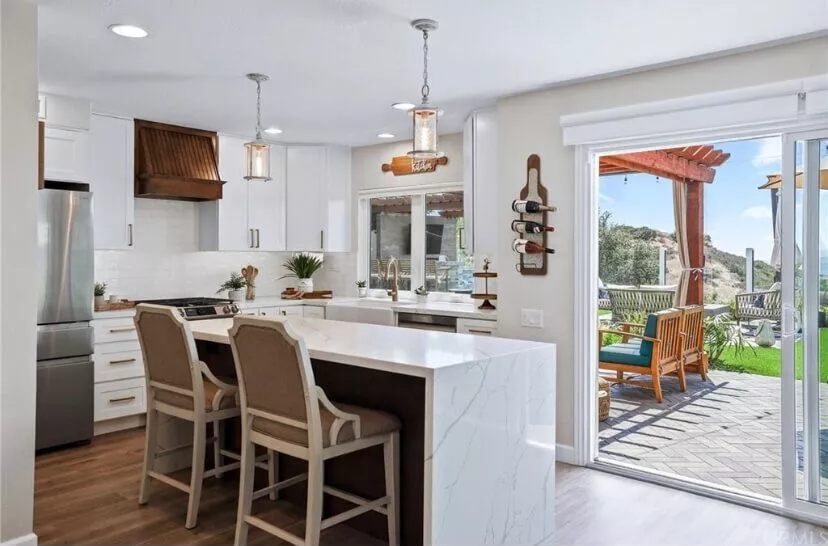 Transform Your Kitchen into Your Dream Space with Our Expert Kitchen Remodeling Services
Complete Kitchen Remodeling in Orange County, CA
Experience excellence in complete kitchen remodeling services with OMG Kitchens. As experienced kitchen remodel contractors, we're masters at transforming ordinary spaces into extraordinary epicurean havens.
Our skilled kitchen remodelers work closely with you to bring your vision to life. From conceptualization to completion, we handle every aspect of your kitchen remodeling project. Our meticulous attention to detail ensures superior craftsmanship and stunning results.
Discover our wide range of services that combine innovative designs, premium materials, and technology to elevate your kitchen to new heights of style and functionality.
When you need kitchen remodel ideas for a space that's contemporary, traditional, or anything in between, OMG Kitchens will deliver. Trust us to not only meet your expectations but exceed them.
Contact our team of kitchen remodel contractors today for a consultation and let's embark on your kitchen transformation journey.
Our process
Our Complete Kitchen Remodeling Process
At OMG Kitchens, we want to help you transform your kitchen into a space that reflects your style and meets your functional needs.
With our meticulous attention to detail and unwavering commitment to customer satisfaction, our well-defined steps to remodel a kitchen ensure a rewarding kitchen remodel experience.

Design Consultation
Our kitchen remodeling process starts with a one-on-one design consultation session. Here, our expert designers will meet with you to understand your kitchen remodel budget, goals, requirements, preferences, and expectations. We'll assess your kitchen's layout, discuss material options, and explore design possibilities. This will allow us to create a kitchen remodeling plan that aligns with your lifestyle and aesthetic sense.

Project Planning
Once the kitchen remodel design is finalized, our team will plan every aspect of the remodeling project. From selecting high-quality materials and coordinating with suppliers to scheduling tasks and obtaining necessary permits, we'll handle all the logistics to ensure smooth execution.

Construction
Next, we'll start working towards bringing your vision to life, ensuring the precise installation of cabinetry, countertops, flooring, lighting, and more. Our kitchen remodeling company maintains clear communication throughout the construction phase to address any concerns and keep you informed every step of the way.

Final Inspection
Customer satisfaction is our top priority. Before delivering your brand-new kitchen, we'll conduct a final inspection to ensure that every detail meets our high standards of excellence. Our kitchen remodel experts will examine the functionality, finishes, and overall craftsmanship to ensure your satisfaction with the final result. OMG Kitchens is committed to delivering outstanding craftsmanship and an exceptional custom kitchen remodel experience. Contact us to transform your kitchen into a space you'll cherish for years to come.
Our Complete Kitchen Remodeling Services in Orange County
You can depend on our proven kitchen remodel services to transform your cooking area into a stunning, functional, and personalized space.
Our small
Kitchen Remodeling

services include:
Design Consultation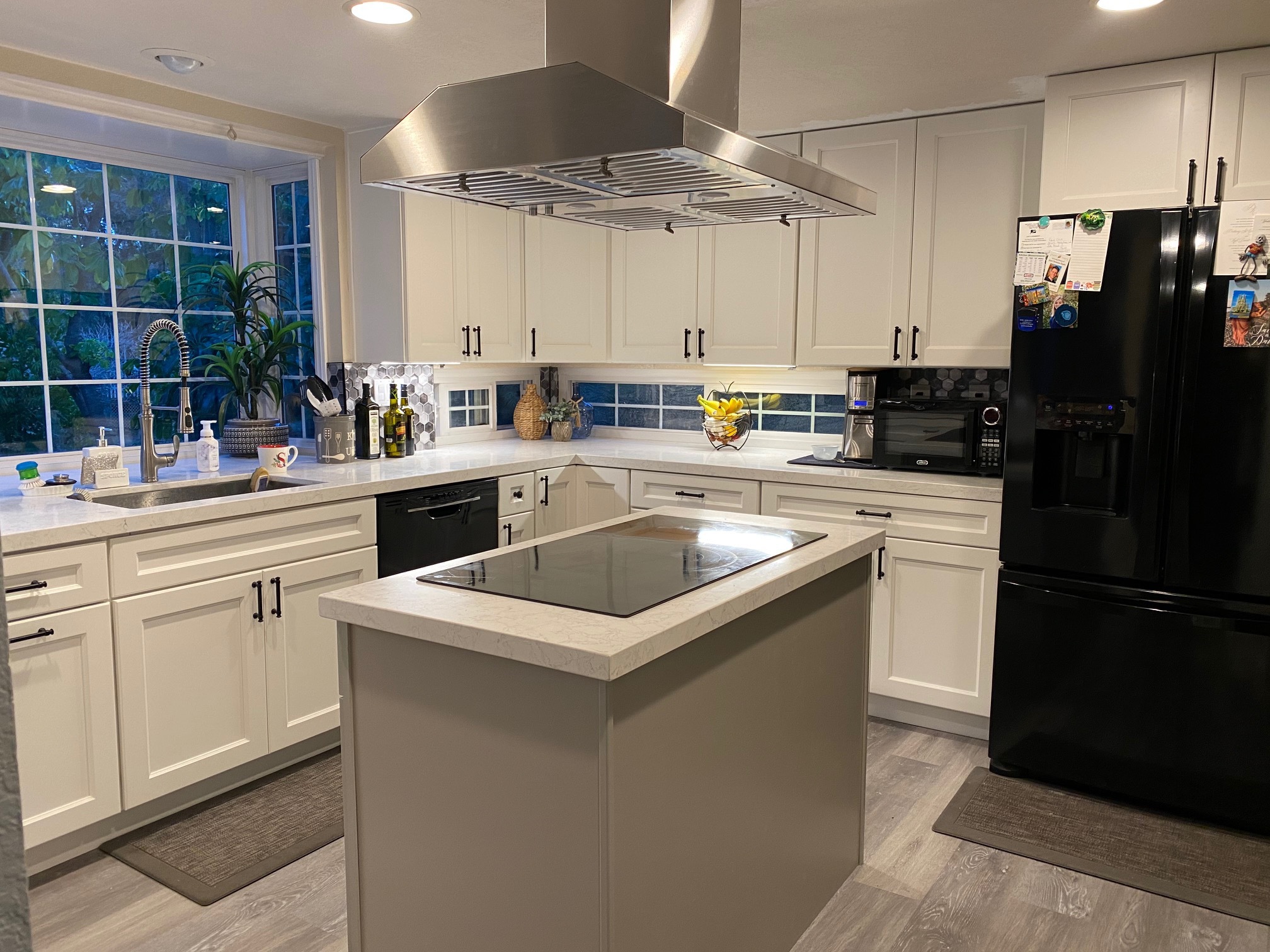 Design Consultation
OMG Kitchens understands that your kitchen is central to your home. Our comprehensive kitchen remodel services include a personalized design consultation. We work closely with you to understand your vision, preferences, and functional requirements. With careful attention to detail, we create a custom kitchen remodel plan that optimizes space utilization and reflects your personality.
Demolition
Installation Of New Kitchen Cabinets
Countertops
Flooring
Lighting and Appliances
Plumbing and Electrical Work
Happy Clients
" Quality Services & Excellent Work! "


OMG! My reaction exactly to how the job has been done! Am an absentee owner and had been referred to OMG Kitchen and Bath Specialists. After seeing the before and after pics of the kitchen and bath, I knew I had made the right choice by hiring them to do the job as they worked on the house as if it were their own! I would recommend them 100%. The work was done in a timely manner and within the allocated time frame! Thank you OMG!
I had a new door installed between the garage and my house to give me direct access, and 2 bathroom vanities and countertops replaced by OMG Kitchen and Bath. It all turned out great! Sam is a very good contractor, detailed, reliable, and very knowledgeable. I will definitely use him for future projects in my house, and would highly recommend him.


We hired OMG Kitchen and Bath to remodel our master and guest bathrooms. They did an absolutely amazing job! Dependable, polite, effiecient, knowledgeable and they were able to complete both bathrooms in under a month. We are extremely happy with the final projects and our decision to use OMG. We would HIGHLY recommend OMG for any Kitchen or Bathroom project!


Sam and Wendy were great to work with. The work was done timely and we could not be happier with our new kitchen. We will definitely use OMG Kitchen and Bath for future projects


OMG took the time to help me choose tile that I love and that fits the style of house we have on a lake in Lake Forest When the tile arrived from Italy the work was scheduled. It actually was finished a few days early. And I love my new flooring which covers my entire downstairs. I have no hesitation recommending OMG. The husband and wife team are fantastic
OUR BLOG
Latest News
Some description text for this item
GET OUR LATEST NEWS
Subscribe To Out Newsletter!
Some description text for this item
Our Projects
Completed Kitchen Remodeling Projects